My Personal Info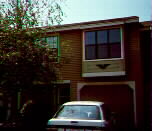 I was born in Cohoes, New York in 1955. Cohoes is about 10 miles north of Albany, the state capital, and is a small city of around 16,000 people. It used to be a mill town--being situated at the juncture of the Mohawk and Hudson Rivers and the start of the Erie Canal, it was a natural location for factories and mills. Cohoes has many people of French-Canadian extraction (I'm one, for example: my grandfather was from Napierville, Quebec) as well as Polish, Italian and Eastern European communities. Above all, it's a great place to live, and after growing up here, moving north to Round Lake (10 miles south of Satatoga Springs) and returning to Troy for college and work, I resettled in Cohoes in 1987 and lived there for ten years.

In August 1997, I took the plunge and fulfilled a longtime dream to move to San Francisco. New job (see Work), new apartment, new city--it's been exhilarating so far. And of course, I don't need to extol the virtues of my new home city.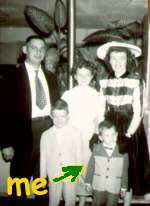 I come from a family of five kids. I have one older sister, one older brother and two younger brothers. Yes, I am a middle child, and I seem to fit the mold pretty closely. My father passed away the day after Thanksgiving 1996 after a long struggle with emphysema.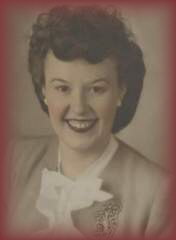 Mom was diagnosed with Alzheimer's disease around 1991, and after eight years in a nursing home, peacefully passed away June 18, 2001. Her struggle was long and courageous, and I am so thankful for her caregivers and especially my sister Judy for being her advocate and for being present with her in so many ways.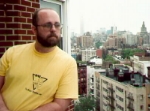 I lived by myself in my house until May 1996, when my partner Steve moved in, lock, stock, and 2,000 CDs. We met on the Internet in 1994, started emailing, talking on the phone, and visiting, and, well, the rest is history. Steve loves music, cooking, and me. I love Steve back.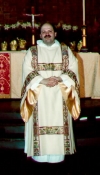 I'm a member of The Episcopal Church. I have always found Anglican spirituality to ultimately be the best fit for my religious beliefs and practices. In 1988 I was ordained Deacon in the Church, and have served in three parishes. My last ministry in New York was at the Cathedral of All Saints in Albany, New York. I have worked in the areas of music, teaching, ministry to the developmentally disabled, and caregiving to persons with AIDS. I served as Secretary of the Diocese for three years, which involved coodinating our annual Convention, publishing the Journal and serving on the Diocesan Council. I have served as deacon occasionally at Trinity Episcopal Church in San Francisco, visit Grace Cathedral regularly for weekday and sometimes Sunday services, and currently attend St. Gregory of Nyssa Episcopal Church, not far from where we live. It's a unique parish that incorporates chant, iconography, dance, and a great sense of community into worship and parish life. The parish website is amazing: St. Gregory of Nyssa Church

Now for the interests and hobbies:



Cooking

Origami

Music



Reading


but you'll have to wait till I can finish this thing...so stay tuned!!!



If you want to get really personal, click here.

Take me back!